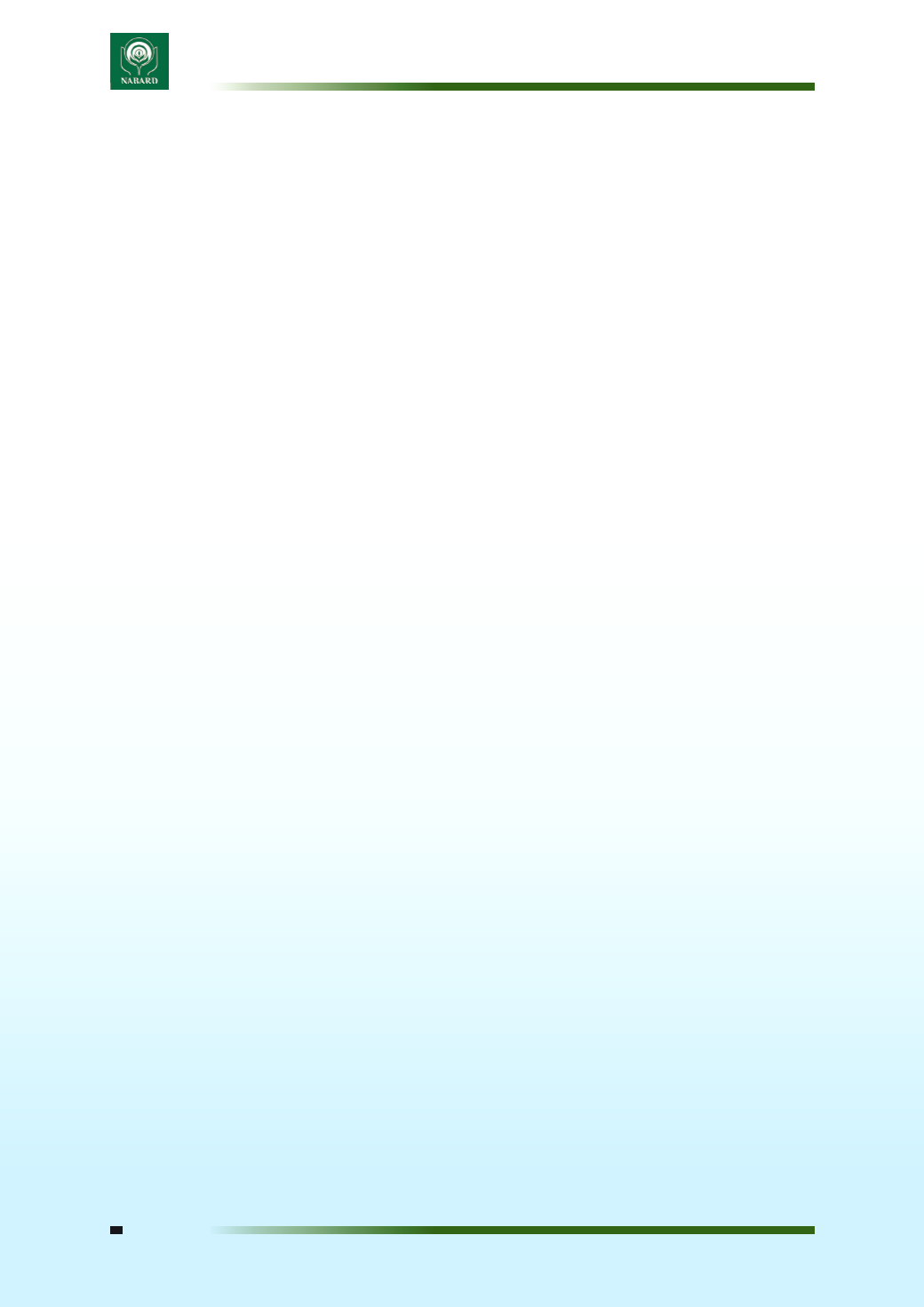 5. 50% of banks considered climate change mitigation project under CSR.
6. 91% of banks felt that Climate change would have significant impact on conduct of business; they
also felt RRBs can play an active role in addressing climate change.
Preparedness
1. 20% of respondents have written statements describing the purposes and objectives of the
organisation to reflect a commitment to climate change activities.
2. 35% of respondents were engaged in capacity building activities on climate change issues.
3. 43% of respondents said that they came up with new product w.r.t climate change mitigation
4. 50% of respondents had schemes for energy saving project for MSME in their region.
5. Only 17% respondent gave Green home loans and 13% had solar powered ATMs.
6. Almost all respondents promoted paperless banking.
7. While RRBs had nearly 75% of their advances as PSL, only a miniscule amount of it was being spent
on Green initiative or climate related stuffs.
8. Few Private Sector Banks have diversified portfolio for investments in Renewable Energy. While
others are yet to foray into climate finance. Though at office level most of them contribute in some
9. In case of RRBs climate finance has been limited to Solar Home Lights System, Solar Water Pumps
and Capital Subsidy Scheme under JNNSM.
Key Drivers
The motivation could be driven by both External & Internal factors.
1. Three major external drivers are (a) Environmental Benefits (29%) (b) Social & Community Benefits
(29%) & (c) Business Opportunities (24%)
2. Three major internal drivers are (a) Economic benefits & profitability (40%) (b) Marketing Benefits
(26%) (c) Improved Shareholder Value (14%)
Barriers
1. Three major barriers as felt by respondents: (a) Lack of awareness about climate change (22%) (b)
Lack of Regulatory policies (20%) (c) Lack of technical knowhow (19%)
2. Further, nearly 44% of respondent said Credit Risk was the major barrier to implement climate
Voluntary Measures
1. Only 10% Banks had green channels
2. Only 8% respondents are member of any global / national policy framework. Majority of public and
private banks are part of some or the other policy framework.
3. Only 15% of primary respondents are willing to join one in future.